As a key participant in biodiversity conservation, enterprise has been increasingly dependent on nature and ecosystems. The World Economic Forum (WEF) estimates that nature-positive economic development will create more than 395 million jobs by 2030, including 88 million new jobs in China.
To galvanize more enterprises to value the nature and incorporate nature conservation into business decisions, the 17th International CSR Forum, held from July 21st to 22nd, revolved around the above key issues for discussion.
On July 21, GoldenBee, together with the Capitals Coalition and Business for Nature (BfN), convened the online panel, Incorporate Nature Conservation into Business Decisions (INCBD). The panel was to provide a clear direction and path for small, medium and large companies to carry out natural capital accounting, natural resource conservation and participate in biodiversity conservation activities and organizations. The panel was moderated by Dai Yibo, Vice President of GoldenBee.
Business Opportunities in Transition Towards a Nature-positive Economy
Against global issues such as climate change, species reduction and increasing inequality, biodiversity conservation has lent itself to shared attention among governments, enterprises, social organizations and other forces for socio-economic development, creating business opportunities in transition towards a nature-positive economy.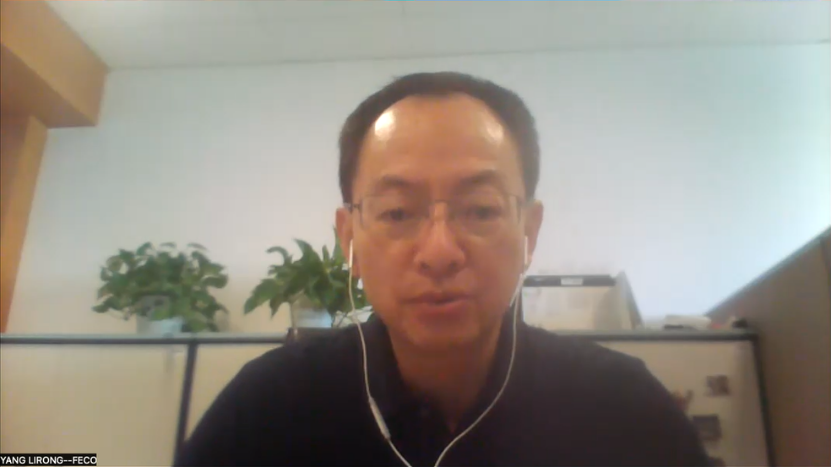 Yang Lirong, Deputy Chief Economist, FECO, Ministry of Ecology and Environment
To impel enterprises to focus on the nature, the Foreign Environmental Cooperation Center (FECO) of the Ministry of Ecology and Environment has actively involved in the mechanism construction for corporate participation in biodiversity and taken the lead in establishing the China Business and Biodiversity Partnership (CBBP). At the same time, it has strengthened corporate capacity building and promoted the application of such tools as the Natural Capital Protocol.
Yang Lirong suggested that enterprises should incorporate natural capital into their business decisions to better achieve legal compliance. Moreover, they should benchmark with international standards and explore synergistic development to cope with climate change and conserve biodiversity. They should also grasp various forms of cooperation mechanisms to successfully transit their business models towards "nature-positive" type.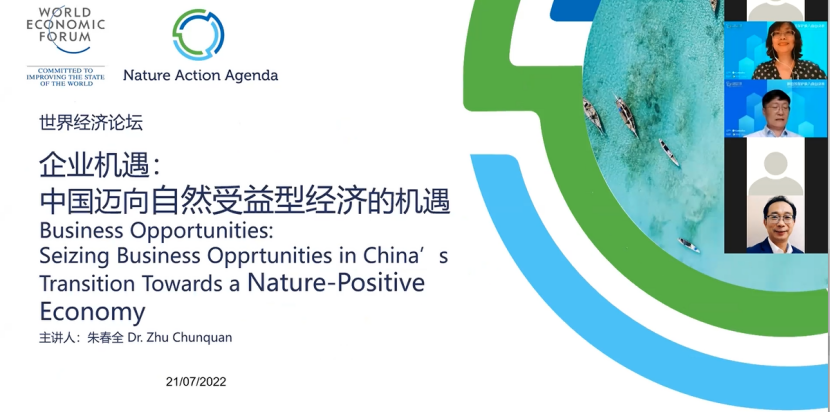 Zhu Chunquan, China Head, Center for Nature and Climate, World Econimic Forum, Beijing, China
Dr. Zhu Chunquan pointed out that China's preferential policies on carbon peak and carbon neutrality goals, to achieve high quality development and promote people's well-belling and equitable social development are conducive to driving the transition of three major socio-economic systems: food, land- and ocean-use system; infrastructure and built-environment system; energy and extractives system. Such transition will bring about great opportunities for China's transition towards a nature-positive economy. According to Dr. Zhu, these transitions are expected to create $1.9 trillion in business value in China by 2030.
Effective tools to realize the transformation of natural value
In essence, incorporating nature conservation into business decisions is a process of nature value transformation. Enterprises can use effective tools of natural capital valuation and related information disclosure to carry out nature conservation practices in a scientific and orderly manner.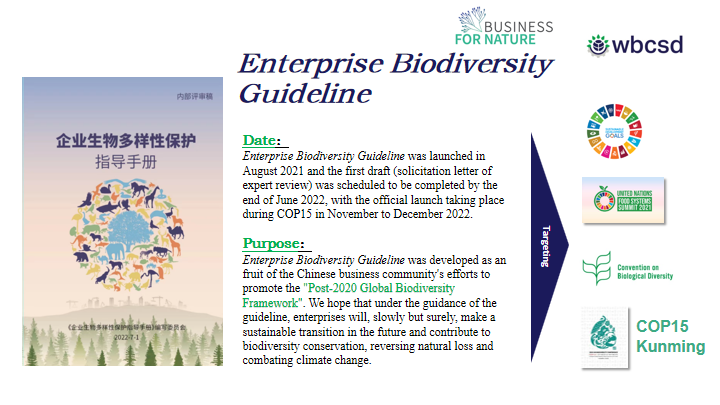 Zhou Weidong, Chief Advisor China, Business for Nature
To enhance coporate sustainability management, reduce environmental risks and increase competitive edge, Zhou Weidong introduced the Enterprise Biodiversity Guideline, the "Sustainable Agriculture Alliance" and other eco-environmental protection projects developed by BfN. Mr. Zhou also analyzed the business opportunities behind sustainable development. BfN's tools are aimed to further improve corporate involvement and assist enterprises move towards green transformation.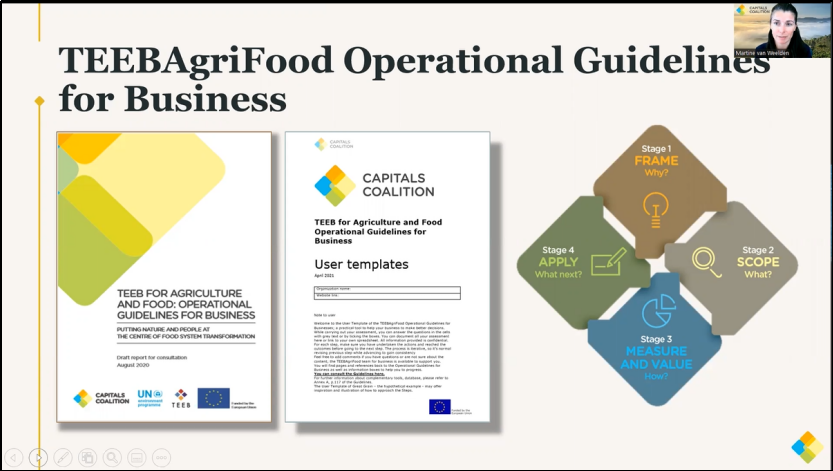 Martine van Weelden, Senior Manager, Capitals Coalition
By adopting an interconnected system of "business-government-finance", Capitals Coalition fully supports companies' business decisions making process. Taking the TEEBAgriFood project as an example, Martine explained how tools such as the Operational Guidelines for Business enabled companies to learn more about the concepts of natural capital, social capital, human capital and produced capital, and measure and value a company's dependence on people and nature. Equipped with such skills, companies can better apply the combined capabilities of natural capital valuation into business decisions making.
Emily McKenzie, TNFD Technical Director
Emily, Technical Director of the Task Force on Nature-Related Financial Disclosures (TNFD), presented the key elements of TNFD prototype framework (v0.1) and the latest developments. She recommended that companies to adopt LEAP (Locate/ Evaluate/ Assess/ Prepare) process to measure nature-related risks. TNFD provides disclosure recommendations to companies from four perspectives, namely, governance, strategy, risk management, and metrics and targets, which help companies establish a science-based, location-first approach and integrate it into corporate and portfolio risk management.
Chinese Practices of Nature-based Business Decisions
With biodiversity conservation becoming an increasingly core issue in sustainable development, many trail-blazing enterprises and organizations have already taken positive actions, demonstrating the farsightedness of Chinese enterprises in engaging in ecological protection.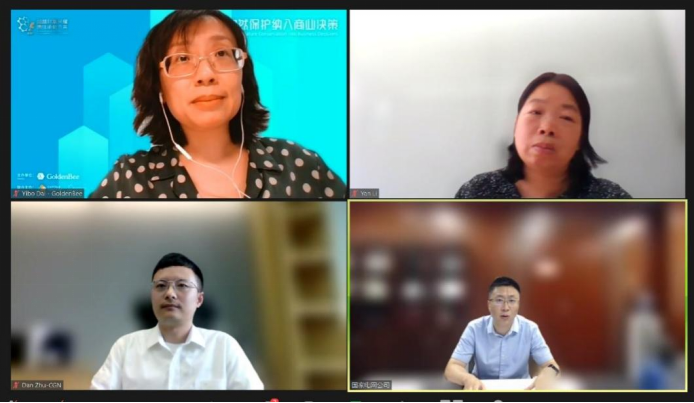 Panel discussion
During the panel discussion, Gong Changhong, CSR Director of China State Grid, said that State Grid has incorporated biodiversity conservation into the whole process of its construction and operation. Up to now, State Grid has carried out more than 20 biodiversity conservation projects including bird protection, desertification management, and wetland protection. Its natural ecology conservation practices have turned into replicable project experiences that can be used to promote the implementation of biodiversity conservation programs in the industry.
Zhu Dan, Senior Manager of China General Nuclear Power Corporation (CGN), shared CGN's representative projects in exploring the harmonious coexistence of clean energy and nature. From 2019 to 2021, CGN carried out natural capital accounting. Daya Bay Nuclear Power Plant gained a total natural capital value of over RMB 424.4 billion during its operation from 1994 to 2019. The natural capital value created by CGN has also encouraged itself to upgrade its philosophy on nature conservation, as in ladder-type structure of "avoid, reduce, mitigate, compensate", to further guide the biodiversity conservation practices in CGN.
Li Yan, Programme Manager of Society of Entrepreneurs & Ecology (SEE), introduced the SEE's initiatives to help member companies carry out environmental protection projects through promoting enterprises' participation in biodiversity conservation. By joining in SEE's groundwater protection, Sanjiangyuan protection and other eco-environmental protection projects, enterprises are mainstreaming biodiversity protection activities in their business activities.
The Launch of Capitals Coalition China Hub
On July 22, Mark Gough, CEO of Capitals Coalition, called on organizations to collaborate and incorporate natural capital accounting into business decisions to drive economic and industrial transformation in his video for the 17th International CSR Forum.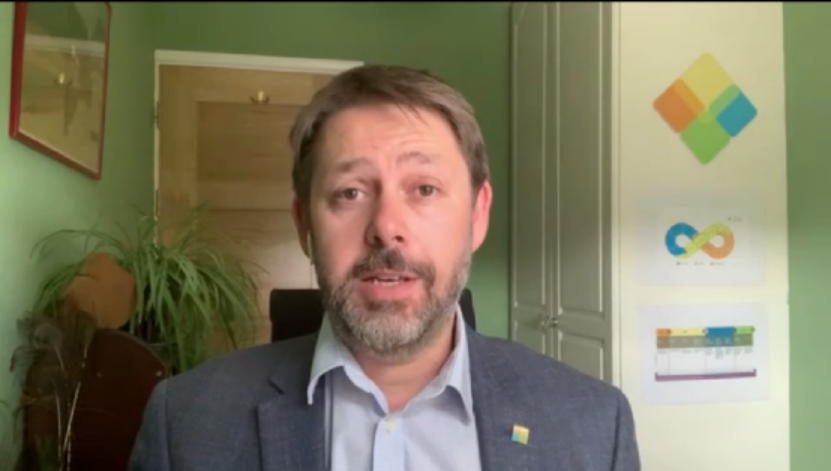 Mark Gough, CEO, Capitals Coalition
In the meantime, Mark emphasized that the establishment of a natural valuation system requires global partnership, of which China is an important driving force. Therefore, invited by the Capital Coalition, GoldenBee, was to set up as the Capitals China Hub. It will work with 12 other Capital Coalition hubs across the globe to promote the valuation of produced capital, human capital, natural capital and social capital, and to facilitate a better understanding of the impact of nature and people among enterprises, financial institutions and governments.
The launch of Coalition Capitals China Hub was moderated by Yin Gefei, Founder of GoldenBee, and witnessed by Zhao Yang, Senior Engineer of the FECO of Ministry of Ecology and Environment, Wang Chudong, Director of the Party Committee Publicity Department of State Grid Zhejiang Electric Power Co., Ltd., and Chen Weizheng, President of GoldenBee.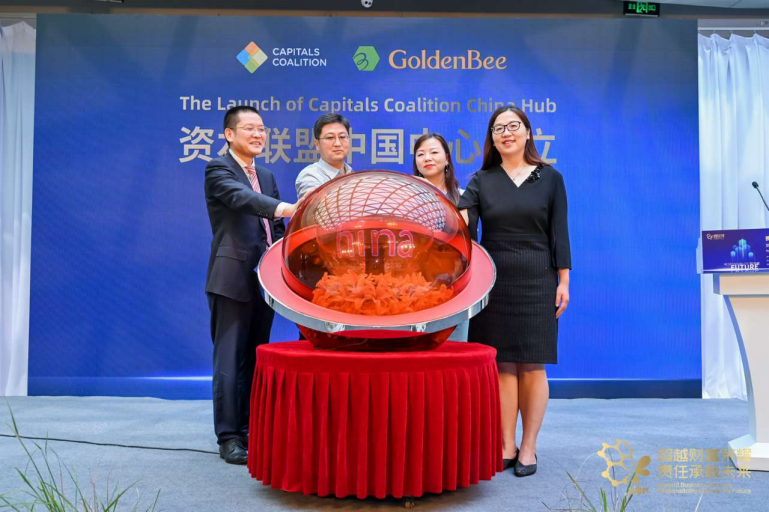 The Launch of Capitals Coalition China Hub
Yin Gefei introduced that since 2012, GoldenBee has been cooperating with many international platforms and institutions to conduct biodiversity-related research, promotion, capacity building and consultancy and to provide training on natural capital accounting to help the company better develop strategies and decisions. The Capitals China Hub will build a bridge between Chinese companies and natural capital accounting mechanisms. On top of that, it will improve the recognition of Chinese companies and society about the capitals approach, raise their awareness about the value of people and nature, and add the application of the capitals approach into decision-making.
Zhao Yang, one of the witnesses, had once participated in the publication of Natural Capital Protocol and the compilation of Enterprise Guide to Multiple Capital Accounting and guided a number of enterprises to carry out natural capital accounting. He pointed out that the combination of natural capital, produced capital, social capital, and human capital can bring greater value to business and people, which is why international organizations are working with China to promote multi-capital accounting.
Wang Chudong, conveyed her congratulations to GoldenBee's role as the Capitals China Hub and introduced two cases of natural capital accounting that had been carried out by State Grid (Zhejiang). She introduced that the monetization means and results were used to increase State Grid's awareness of the impact and dependence on nature in the process of power grid construction, operation and maintenance. She also expressed her strong determination to incorporate nature conservation into the company's operation in the future.
In recent years, China has actively explored multiple channels to promote the value of ecological products in biodiversity conservation and sustainable use to achieve value preservation and appreciation. Besides, it has striven to transform ecological advantages into economic advantages. We hope that by uniting the strengths of many parties, we can mobilize more enterprises in protecting the value of nature, adding more value to natural capital.
Click the link for the panel replay: https://www.csr-china.net/ind/202006/gb2022/livesd.php?l=5