Innovative business practice facilitates win-win results
GoldenBee: Carbon peak and neutrality have become a new field for global competition. How do you think the corporate actions, like building C Team, will help Chinese enterprises develop in an ecology-first, green, low-carbon and high-quality manner and improve their international competitiveness?

Chai: With the challenges posed by carbon emissions, Chinese enterprises are facing and will continue to face both internal and external pressures.
On the one hand, there are carbon border adjustment mechanisms, carbon tariff policies, and technical standards for the carbon footprint of products. If Chinese enterprises do not speed up their efforts in improving capabilities, they may be locked out of the global market in the future.
On the other hand, China has pledged to peak carbon dioxide emissions by 2030 and achieve carbon neutrality by 2060 (China's 30·60 Decarbonization Goal) and formulated policies to realize these goals. Accordingly, China has put forward a series of requirements for enterprises. Of course, a huge vessel takes more time to turn. Therefore, the regulation of carbon emissions will start from energy-intensive enterprises, such as those in electric, steel, petrochemical, chemical, non-ferrous and building materials industries, and then gradually shift to those in manufacturing and consumption sectors.
I think C Team has built a great platform for enterprises to raise their awareness of carbon peak, carbon neutrality and sustainable development.
In addition, other examples of sustainable development will also make enterprises realize that fulfilling the responsibility of decarbonization can generate win-win benefits. Green and low-carbon development does not stand in opposition to economic growth. Rather, it promotes high-quality and efficient development. Realizing carbon peak and carbon neutrality is of great benefit to the development of enterprises themselves.
Four steps towards low-carbon transformation
GoldenBee: Do you have any suggestions for enterprises to fulfill their responsibilities of decarbonization?
Chai:First, be sure to make plans ahead of time. China has put forward the macro policies, goals and plans for 30·60 Goal. Chinese enterprises are bound to be constrained by related aspects, which in turn pushes enterprises to innovate. In this new green path, it is particularly important for enterprises to take initiative to make forward-looking plans for the sustainable development.
Second, actively integrate and mobilize all resources to optimize their structures. Many new platforms have emerged with new opportunities, such as carbon markets and green finance. Enterprises should learn how are these policies operated and apply these mechanisms rationally, as these new policies will inject a strong impetus for their development. Of course, enterprises should also improve their competitiveness and ability to cope with potential carbon barriers.
Third, enhance their capacity for technological innovation. Technological innovation is the core of enterprise's innovation, which can provide necessary support and guarantee for improving enterprise's competitiveness. In fact, China has shed new light on the development of green and smart technologies, such as new power systems, hydrogen-based metallurgy and chemicals and smart cities, which can be integrated with our existing infrastructure. Enterprises are the main force of innovation; their practices in innovation that meet the requirements of the times will not only bring them profits but also promote the development of the whole society.
Finally, work with governments and society for high-quality, low-cost carbon neutral solutions. In other words, enterprises should actively fulfill their social responsibilities and create value for society while promoting their own development. Enterprises should take into account their own interests and social sustainable development in their future development.
Carbon disclosure is like a health check
GoldenBee: The Measures for the Administration of Legal Disclosure of Corporate Environmental Information and the Guidelines on the Form of Legal Disclosure of Corporate Environmental Information issued by the Ministry of Ecology and Environment were officially put into effect on February 8. How do you think carbon disclosure can help enterprises in their transformation towards decarbonization? How should enterprises act in accordance with the policies and seize the opportunities?
Chai: Carbon disclosure is a very important institutional arrangement, which can benefit both the country and enterprises themselves.
On the one hand, through carbon disclosure, the country can know the carbon emissions of enterprises and what actions they have taken and will take to reduce emissions. On the other hand, carbon disclosure is like a "health check" for enterprises to clarify their possible shortcomings and problems, and their competitive advantages in achieving decarbonization for the higher-quality development.
It can be seen that the carbon disclosure mechanism is constantly improved by government departments, with the implementation scope being expanded from "point" to "field", and the implementation mechanism may be transformed from "voluntary" to "mandatory".
In fact, carbon disclosure is only the basis for decarbonization, because it means "we know where we are". What is more important than "disclosure" is, under the supervision of the public and various stakeholders, to promote enterprises to develop in a more green, low-carbon and sustainable manner.
Climate change is a new fashion
GoldenBee: You were invited to participate in the special program of the TV show Day Day Up—"new lifestyle under China's 30·60 Decarbonization Goal". We often consider the entertainment of talk show as incompatible with the seriousness of sustainability, but this show has been very successful in spreading carbon peak, carbon neutrality and other sustainability knowledge to the public. What enlightenment do you think this show has provided for realizing 30·60 Goal?
Chai: In fact, I had only professional interviews from official media in the past and rarely came into contact with such "variety show". When receiving the invitation for Day Day Up, we actually felt a little apprehensive. But then I thought it's important to broaden the communication channels.
For a long time, research on climate change and sustainable development has been confined to the government and some of the enterprises, which is far from enough. We need more extensive strength to realize 30·60 Goal and popularize the ecological civilization.
First of all, the industrial and production sectors are the main sources of carbon emissions in China now; but with the improvement of people's living standards, people's daily life and consumer goods will account for most of the growth of carbon emissions in the future, which is expected to be more than 70%. It is actually very important to know how to manage emissions of daily consumption and form a green and low-carbon lifestyle.
In addition, it still needs a long time to address climate change and achieve sustainability. That means it may not be a one-generation endeavor, but one that will take generations to produce effective results.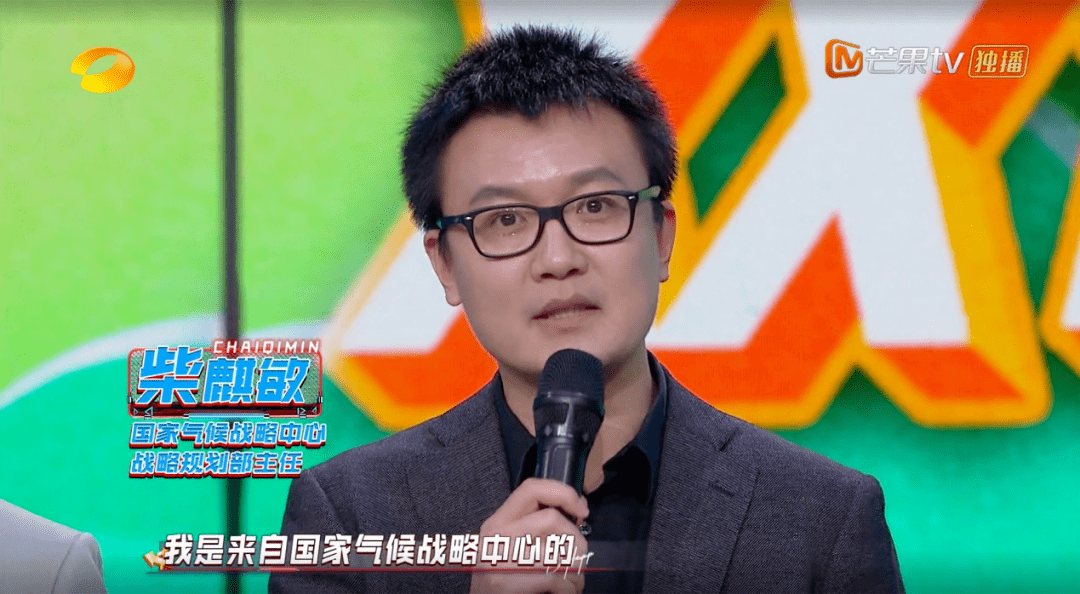 I think we can spread the knowledge of decarbonization to more young people through Day Day Up. Perhaps one of the concepts and ideas mentioned on the show will plant a small seed in the minds of the audience, which will help them make efforts for decarbonization in their future work.
At the same time, more "down to earth" dissemination can also let the audience understand that the knowledge related to "carbon" is not that serious, but instead is very "fashionable".
I was previously interviewed by a fashion magazine, and the host is a fashion supermodel and a graduate student from MIT Business School. I asked the host why a fashion pioneer was concerned about climate change, and the host answered, "Climate is a new sexy." Climate change and sustainable development are new sexy fashions, so we should spread them to the public better. That's our original aspiration.